I'll admit it - I'm still feeling some pretty heavy post-Ottawa Explosion euphoria.
It's definitely a byproduct of seeing pals gathering from near and far; of days spent sweating all up under that sun, and really just LOSIN it once you hear your jam. Rinse, Repeat x 4 days. Holy smokes.

But it's this shared festival experience between so many people that really gets me most excited: hearing DJs spin songs that you dig, seeing a band do a cover of a song you've always liked (or hated?) or running to the merch table after a new band lays it on ya real thick. It's the best, and the only way I can think of extending these fuzzy wuzzies for a coupla weeks is to declare that it is time for our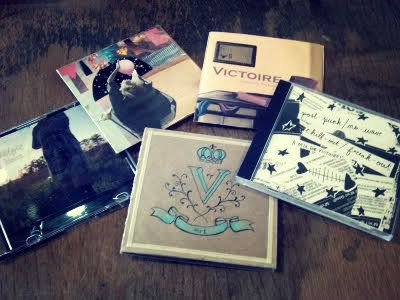 Last year, submissions poured in and I couldn't believe how much thought went into every lil' package we received. We seriously still spin these in the shop on a regular basis and I can't wait to see what you guys will do this year.
Until JULY 31st, we will be accepting MIX-CDs in person at both locations. Submissions can also be mailed to:
******
VICTOIRE BOUTIQUE
246 Dalhousie St.
Ottawa, ON. K1N-7E2
******
After the deadline, a heated debate will occur at our staff meeting and we will pick our favorite mix of the bunch. The winner will walk away with a $50 gift certificate.

RULES TO PLAY BY:
No

crazy

profanity. The CDs will be spun in the store, so we ask you guys to be mindful of the mixes purpose, but don't freak out if there are one or two dirty words.

knowwhatimean

?

MAX

ONE (1) submission per visit. But you can stop by a couple of times or send us a couple of individually mailed submissions.



All submissions must include all relevant information somewhere inside of the mix. (SONG TITLES, ARTISTS, YOUR NAME, PHONE # and EMAIL)
GO NUTS- packaging? album art

?

write your very own

Victoire song? include a letter describing why yours is the best? We love that stuff! Just remember to make a mix that you think would sound great in the store.
Contest ends July 31st and we will announce the winner on here once we've battled it out thunderdome style. GOOD LUCK YA'LL XO