BLERGH. I believe it was Garfield who had something to say about Mondays. I, too, am afflicted with the anti-Monday kind of sentiment. Nothing cures the blues like some good tunes and maybe playing around with the theme of 'BLUE' for your blog post though.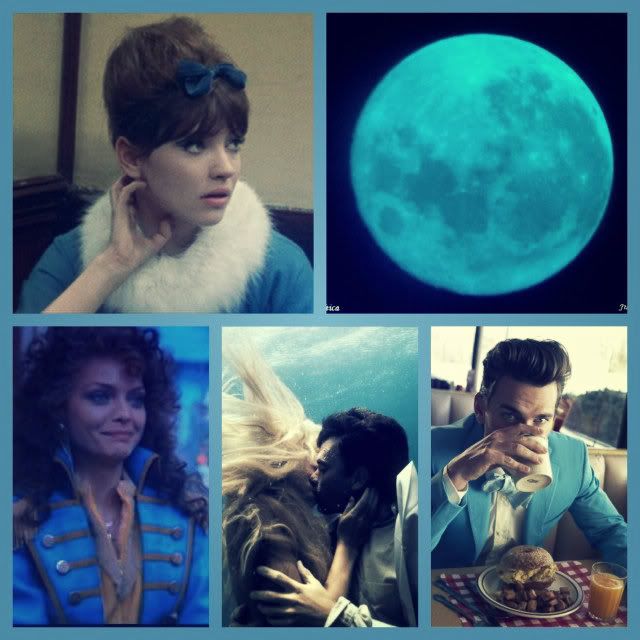 From top left, clockwise: Anna Karina in Une Femme est Une Femme; the blue moon; Matthew Bomer from the show White Collar (i know, NOT blue?!) wearing a sexy blue suit and eating breakfast; Daryl Hannah and Tom Hanks in Splash; Michelle Pfeiffer in Married to the Mob, sick coat.
Full disclosure: I started making a collage with the Blue Man Group (they SO blue!) and pictures from the movie The Abyss, but that was giving me such a heavy case of the blues that I was getting the blacks. So anyway, I decided to pull inspiration from some sweet films and from around the store. Here's my Blue Victoire:
Top left, clockwise: Falconwright leather clutch, $56; Moonlight for Violet triangle studs, $24; CS Footprints Brass and Turquoise necklace, $60; Headmistress Baby Blue turban, $59; Crywolf Russian Doll pullover, $40. All items available at both shops (but assorted colours for the studs and turbans)
I think I feel better now after exploring this, because I feel like "having the blues" can't be so bad if you think about it as a wide spectrum of blue tones (or blue jackets). Cerulean! Cobalt! Robin's egg blue! The look of blue velvet! These shades of blue are actually quite uplifting, right? So... Blue is cool. And now for a 'blue' song that will hopefully lighten your Monday blues, ever so slightly.