Awwwwww ya! Card-carrying member of the Stay Home Club, right here. Stay Home Club is the brainchild of Olivia Mew who some of you may remember as the designer of many of the radical patches we've been carrying over the last year. Stay Home Club is such a very NEXT-LEVEL offering from Olivia, providing an online shop for both her original textile designs as well as for artist collaborations on textiles for the home (pillowcases!!!) and the body (back patches for yer jean jackets!!!). I feel like it was this juggernaut of awesomeness that exploded onto the scene what seemed like overnight. Naturally, I realize this was probably a long time in the making, but it caught me by surprise and blew my mind. Like, one day Olivia was just sending us patches, and the next she had created this online mecca for sick designs and was featured on Design*Sponge.
It is very worth your time to check out the online shop so that you can see what kind of talent is featured over there. I am personally a huge fan, thanks to SHC, of the works of Ohara Hale, Caitlin Shearer, Audrey Malo, to name only a few. Thank you Olivia. I've got images of those designers' works saved on my desktop in the illustrious "PICS I LIKES" folder, you guys. That's where all my inspiration in life is compiled. ANYWAY ANYWAY ANYWAY I digress. We are finally carrying a few items from the Stay Home Club, like some of the wonderful pennants (just FYI, I have had a Stay Home cat pennant above my bedroom door for the last six months cuz I'm cool like that) and the SHC tote bag. Come check 'em out.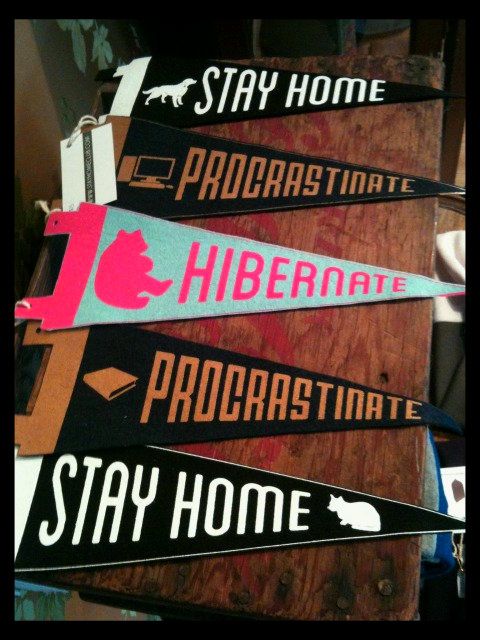 Stay Home Club Pennants, $15 each.
Stay Home Club tote, $25. This baby fits a lot of stuff. I test drove it and can assure you it's basically a weekend bag/will fit many records/books/foodstuffs.
Got some club duties t

o attend to tonight:

staying home and hibernating and most definitely procrastinating... So you see what I mean? Card-carrying member. There are definitely perks

to the club but I can't tell you what they are till you're in it.
Join today!