We always have a lot of fun picking cards for the store. We are really pleased to have the Valentine's Day cards we got finally out on the floor, from such faves as Rifle Paper Co., Regional Assembly of Text and Sycamore Street Press. As usual, the holiday cards tend to go pretty quick so if you're looking to score a cute Valentine's Day card, come visit us and take a look. For those among you with Valentines, here's a look at just a few of the cards we have.
Rifle Paper Co, Sweethearts card, $6.
For that person whose good books you need to get back in...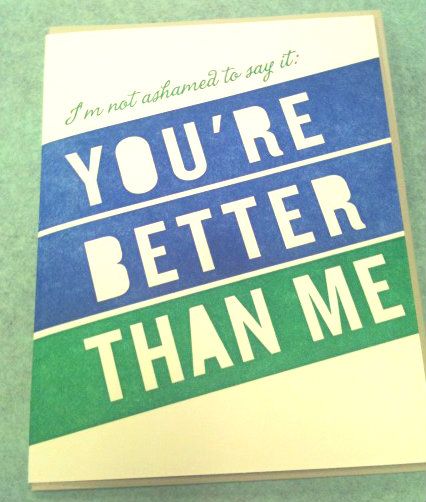 Sycamore Street Press, You're Better Than Me card, $5.
Regional Assembly of Text, I Can't Bear To Be Without You card, $4.
Assorted cards, $4-$6 each.
While I love all these cards, I am surely in the camp that will not receive one this year. NO

MATTER.

For those among you without Valentines to write your sweet nothings to, I share with you an image (from deep in the archives) that captures my Valentine's Day last year, spent with Regine. We took it upon ourselves to have a memorable Valentine's Day, filled with cake, poutine, Jagermeister (and Gatorade for the next day), flowers for ourselves, and ending with a blistering, bringing-down-the-house karaoke rendition of Whitney's I Will Always Love You sung by Regine at our local sports bar to a bunch of drunks in cowboy hats (OH, and in case you were wondering, there IS video of that, hidden even deeper in my archives). The night also ended with a good ol' fashioned late night pizza. The perfect night? Yes.
The point is, do whatever but have some fun and hang with the people you care about. Allow this image to be an activity guide of sorts for your Valentine's, should you wish to eschew the sentimental cards.
Please note, we didn't actually sit in and read The Bridges of Madison County because we were both still REELING after seeing the movie. Have you seen it?? GOOD GRIEF.

We were never the same afterwards.