Bohten zebrawood sunglasses, $180. Available at both shops.
We are carrying a great new line of sunglasses in the store from an Ottawa designer, Bohten Eyewear. This brand of shades was created by Nana Osei, a young, local entrepreneur who was first featured on the CBC's student version of "Dragons' Den" with great feedback. Nana has now been invited to pitch to the real life Dragons this spring. How amazing is that?
Inspired by the vision of positive change and the potential of re-using natural resources, Bohten is committed to producing high quality eyeglasses from reclaimed material. These sunglasses are designed in Ottawa using reclaimed wood that is harvested in the heart of Africa, including beautiful redwood, zebrawood and stained bamboo. These woods are then shipped to Asia where they are handcrafted to Bohten's specifications. Eventually, Bohten hopes to be able to set up local channels for manufacturing here in Canada as the line grows. Let's help them achieve that.
Bohten redwood sunglasses, $180. Available at both shops.
Bohten stained bamboo sunglasses, $180. Available at both shops.
This is a line that I really encourage you to try out in the shop. The frames are made from beautiful recycled woods, have a great weight to them, have polarized lenses and feel so luxurious. So smooth to the touch.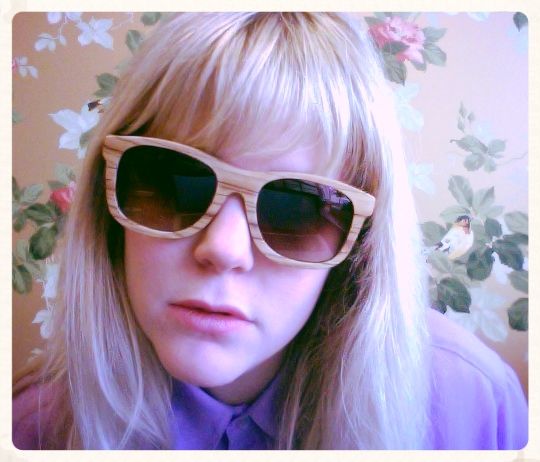 Here's Kristina showing off her zebrawood shades. This look is meant to convey a "I'm super down with Zebrawood, BELIEVE IT" kind of sentiment.
Come try some on soon! And we'll definitely keep ya posted through Facebook and Twitter about when Bohten's episode of the Dragons' Den airs.